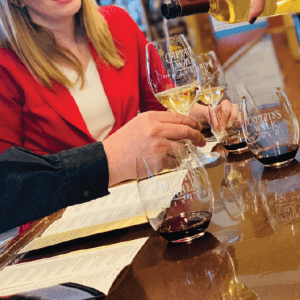 Sample 6 wines and 1 cider in our light-hearted atmosphere tasting room located in Downtown Green Bay $7. No reservation is needed*, just stop in during your girls' weekend or for a quick tasting before your dinner date. We are open all year round and have wine and ciders for every occasion. 
We hope you enjoy our historic Green Bay building as you enjoy your tasting and walk around the tasting room. After you have finished your tasting, you will pay for your tasting and any additional wines you would like to bring home with you.
We look forward to seeing you soon!
*We only ask that you make a reservation if you will have a group of 6 or more.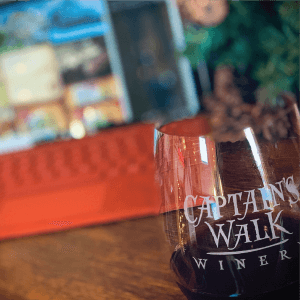 Gather your friends and family, and treat everyone to a good time with great wines. Our staff will discuss your wine preferences with you and create a tasting menu perfectly suited to your likes. We will schedule a time for your tasting and set a zoom call up for you, or you can also opt to use Facebook Rooms. After that, you can stop by Captain's Walk to pick up the bottles, use curbside pick up, or we can send them directly to your home. Donna, or one of our staff members will guide you and your friends through the tasting. During the tasting, you can ask questions, find out all the stories from the making of each particular wine, even learn some history of the building we are housed in.
Virtual private wine tastings can be done with a minimum of 3 bottles and can increase from there, depending upon how many wines you'd like to taste.
No minimum number of participants to book the event.
Pick a date/time

Book your event by giving us a call at (920) 431-9255 or by sending us an email to info@captainswalkwinery.com.

Wines determined (minimum 3 bottles), each participant can choose their own 3 bottles or all participants can taste the same wines.

Curbside Pickup, in-store pick-up, or shipping*

Payment

We can also help with food pairings

Tasting sheets with wine pick up/shipment.

Zoom link will be sent to participants or Facebook Rooms shared to us.

WINE PARTY TIME!
*If you choose to have your wines shipped, please note that it will take 2-4 business days for the wine to be delivered.
*Let's Get Booked*
Here is what we need to know from you to book your Private Virtual Tasting:
Number of virtual locations the party will have.

An email address for each participant (Zoom invite)

Choose time within our regular hours.

For events with 3-? virtual locations/devices

number of places where people will be attending the party.

Payment – One person can pay or your party guests may purchase their wines separately.

Visit our website and familiarize with the wines. We will contact the organizer within a week after booking the time slot to create a wine list (three bottle minimum)

Everyone will pick up/receive wines, a tasting guide, suggested charcuterie/food pairings, and a Zoom invite.

At the scheduled time, our Assistant Winery Manager, Donna, or a staff member, will begin the Zoom call, and soon the wine fun will ensue!
Frequently Asked Questions: