HANDY. ECONOMICAL. EASY.
These individually wrapped bottles are a great way to say "Thank You" to employees, clients, and vendors.  They also make perfect promotional items! We can wrap each bottle and include a personalized neck label. With a case or two on hand, you're always ready for any occasion.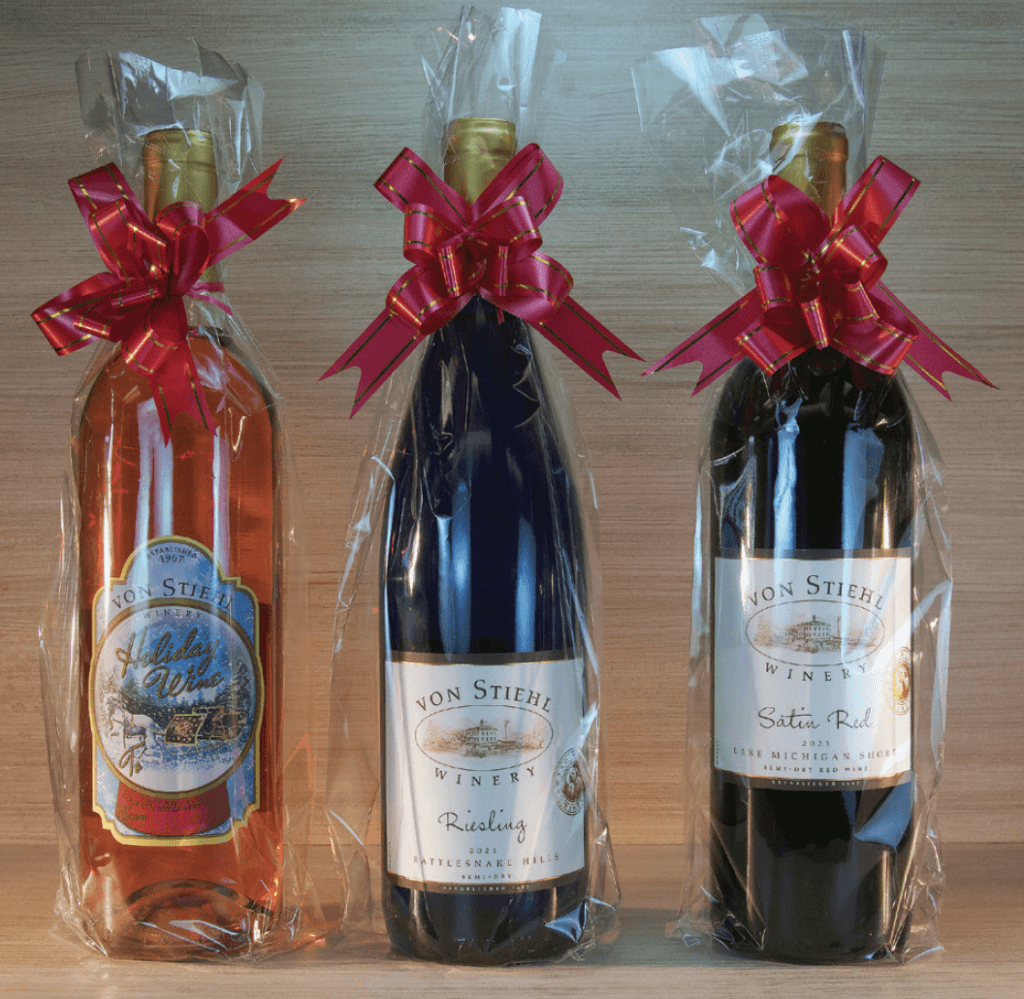 FREE wrapping & labeling by the case. 
12 bottles per case.
All bottles must be of the same kind. 
Each bottle is wrapped in a clear plastic bag with colored ribbon. 
GET $10 OFF von Stiehl Wines
Price is displayed as per case after a $10 discount.
Barrel Fermented Dry Cherry $217.88
Blueberry $187.88
Bourbon Barrel-Aged Cider $253.88
***Cherry Esprit $187.88
Cherry Kirsche $217.88
***Coastal Cab $187.88
Cranberry $187.88
***Cranberry Esprit $187.88
Crimson Royale $157.88
Dry Cherry $187.88
Framboise $253.88
Hard Apple Cider $157.88
***Holiday Wine $157.88
Malbec $253.88
***Naughty Girl $187.88
Niagara $157.88
Oktoberfest $187.88
Orange Muscat $217.88
***Pinot Grigio $187.88
Pinot Noir $253.88
***Riesling $187.88
Sassy Sangria $157.88
***Satin Red $187.88
Sparkling Crimson Royale $187.88
***Sparkling Viognier & Chenin Blanc $253.88
Sierra Foothills Cabernet Sauvignon $253.88
***Stony Creek Esprit $217.88
***Stony Creek Rose $217.88
Sweet Cherry Cast $187.88
***Winter Wine $157.88 
*** TAKE AN ADDITIONAL $15 OFF PER CASE ON VARIETIES MARKED.
***REQUIRES ORDERING BY DEC. 5TH AND MUST BE PAID AT THE TIME OF ORDER. NO OTHER DISCOUNTS APPLY TO THIS SPECIAL. AVAILABLE WHILE SUPPLIES LAST. 
TO ORDER CALL (920) 487-5208

Our Family Plan wine subscription is a great gift idea for the wine-lover on your list. We send out four wine selections per year, you choose one or more categories. 
Family Plan Categories: 
Wine & Cheese
Sweet Wine & Sweets
Red Wines Only
Prices average $60-$80 depending on your choice and reflect a discount off retail prices.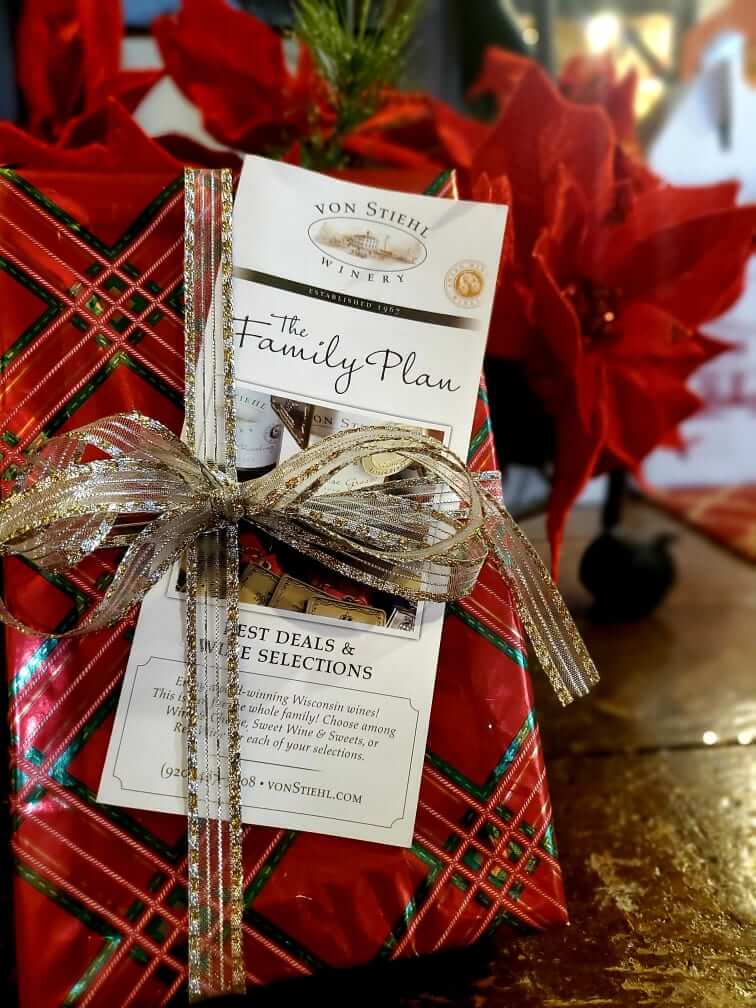 We offer great benefits to our Family Plan members and they include: 
Two bottles of wine four times a year

12% off all wine purchases

24% off 12 bottles of one variety

Annual 36% off a one-time wine purchase (up to $1,500)

Have each wine selection shipped directly to you** or come to the fun Pick-up Parties for your wine plus specials, appetizers, and good company.
**Standard shipping rates apply. 

Our most popular pre-made boxes are all dressed up and ready to go. Pick your box and call it "Done!"
10% DISCOUNT ON ORDERS OF 5+ GIFT BOXES.
QUANTITY DISCOUNTS ARE AVAILABLE FOR CORPORATE ORDERS.
TO ORDER CALL (920) 487-5208!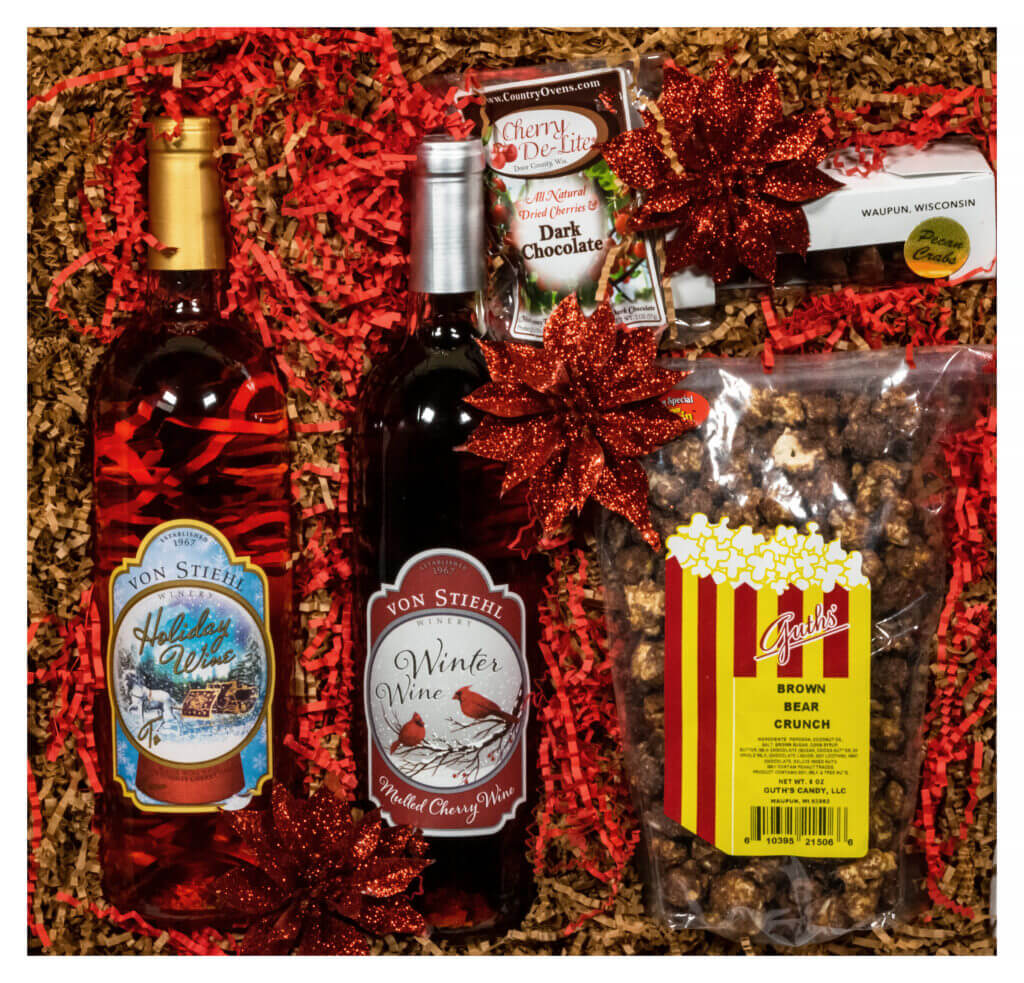 1 bottle of Holiday Wine
1 bottle of Winter Wine
Guth's Brown Bear Crunch
Country Ovens Chocolate Covered Cherries
Guth's Pecan Crabs
$43.99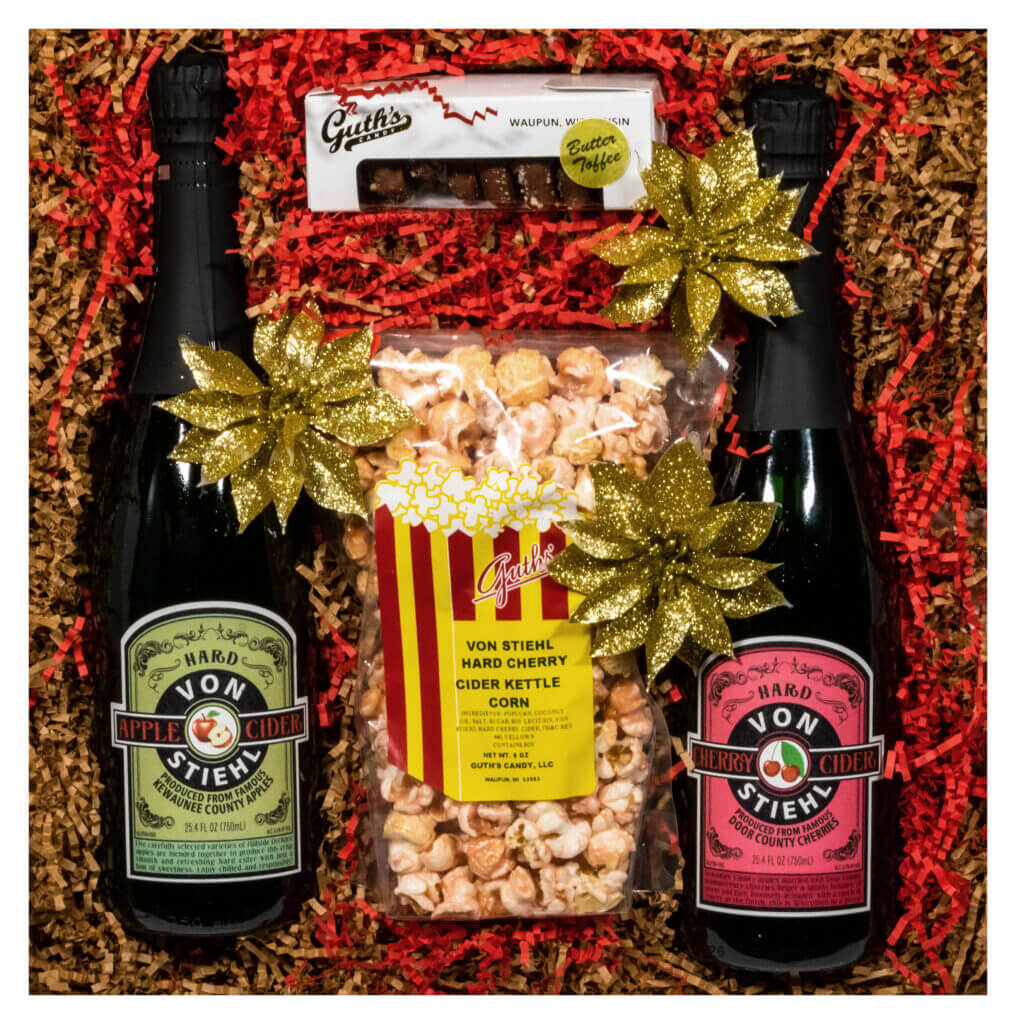 1 bottle of Hard Apple Cider
1 bottle of hard Cherry Cider
von Stiehl Cherry Cider Popcorn
Guth's Butter Toffee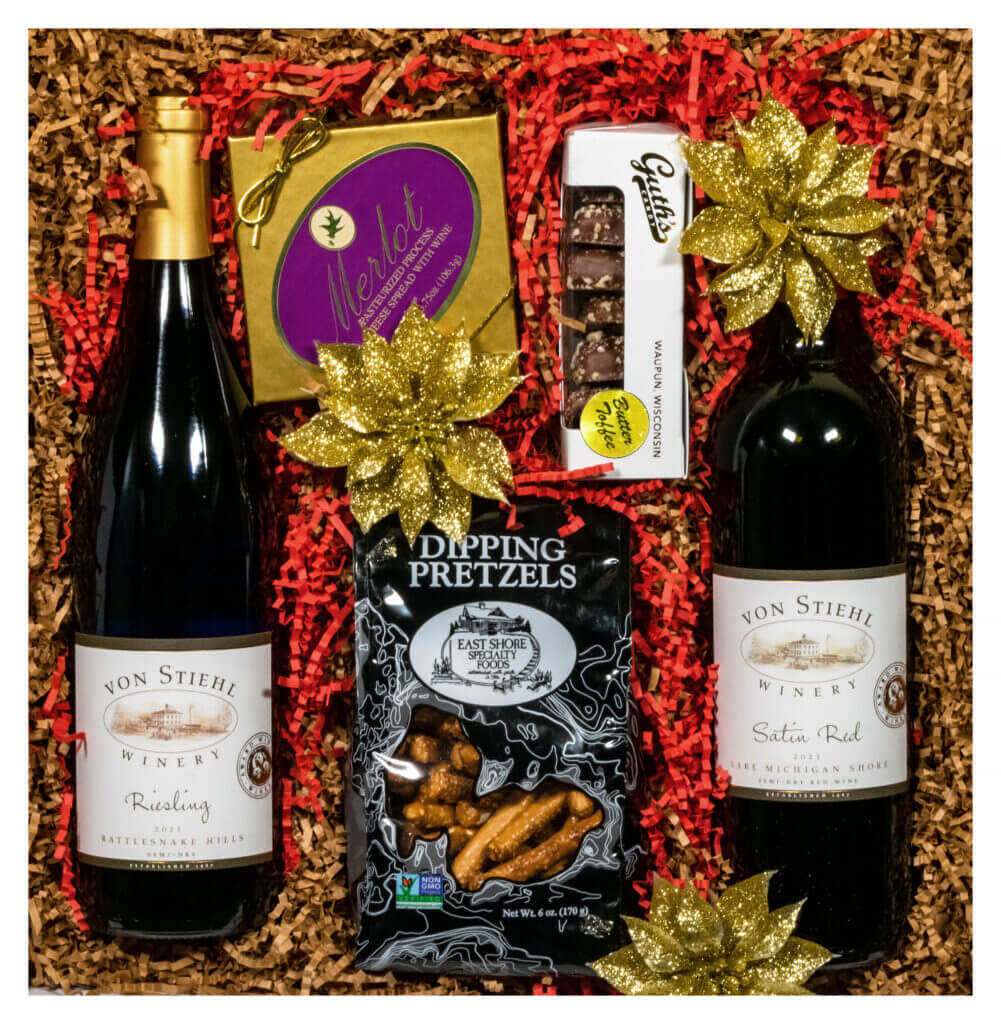 1 bottle of Satin Red
1 bottle of Riesling
East Shore Pretzels
Merlot Cheddar Spread
Guth's Butter Toffee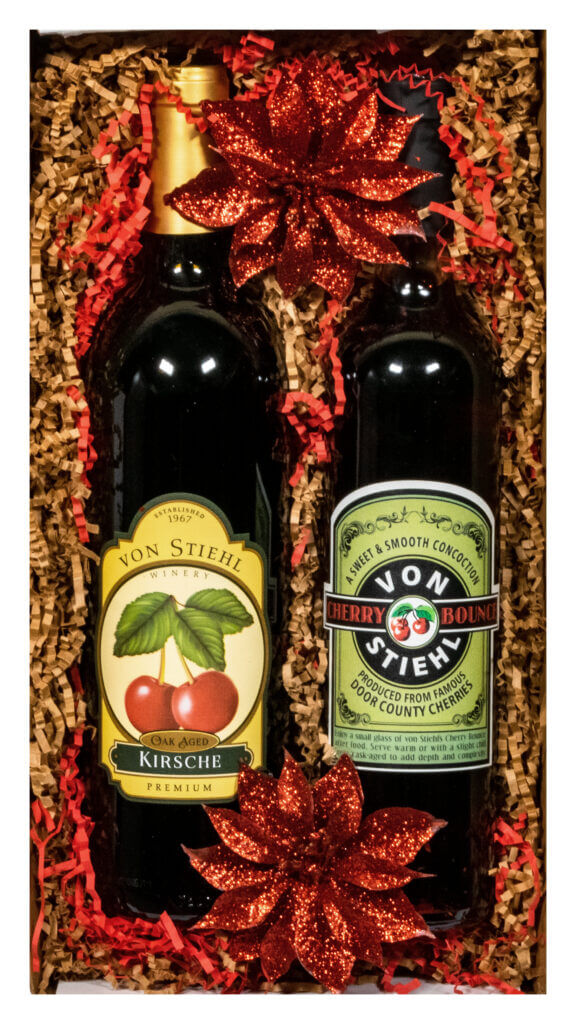 1 bottle of Oak Aged Cherry Kirsche
1 bottle of Cherry Bounce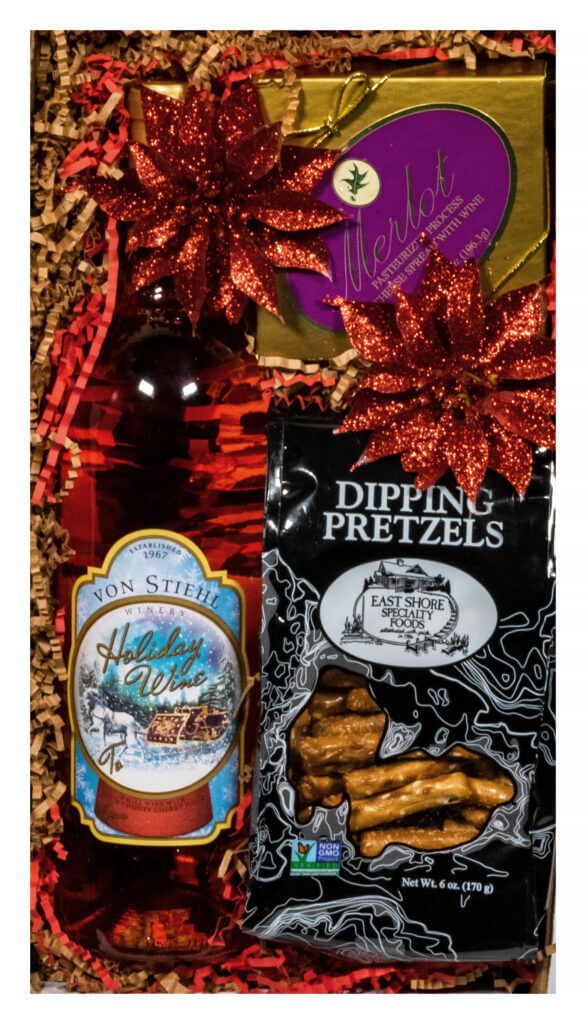 Holiday Favorite Gift Box
1 bottle of Holiday Wine
Merlot Cheese Spread
Dipping Pretzels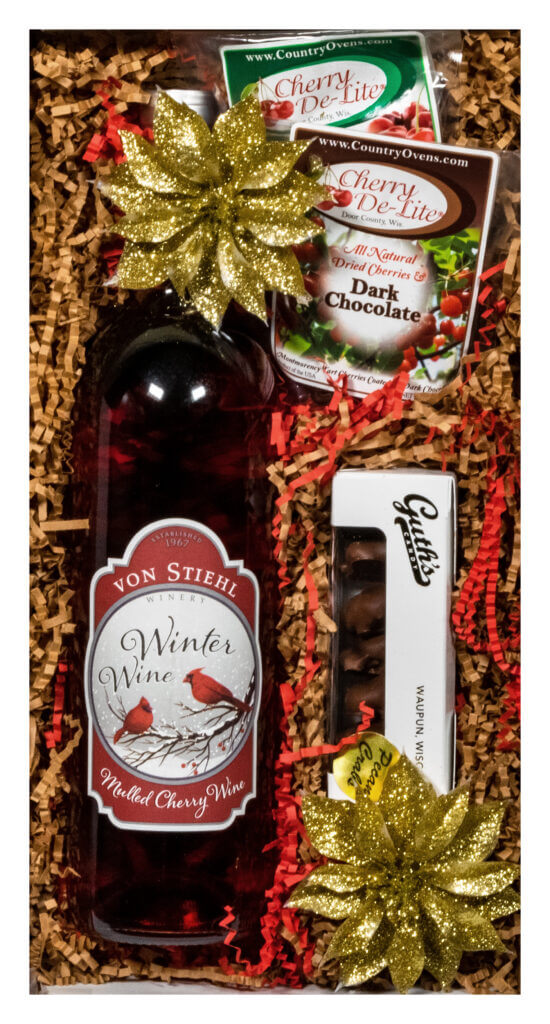 A von Stiehl Christmas Gift Box
1 bottle of Winter Wine
Country Ovens Nut Mix
Country Ovens Chocolate Covered Cherries
Guth's Pecan Crabs
TO ORDER CALL (920) 487-5208

2-Bottle Custom Gift Boxes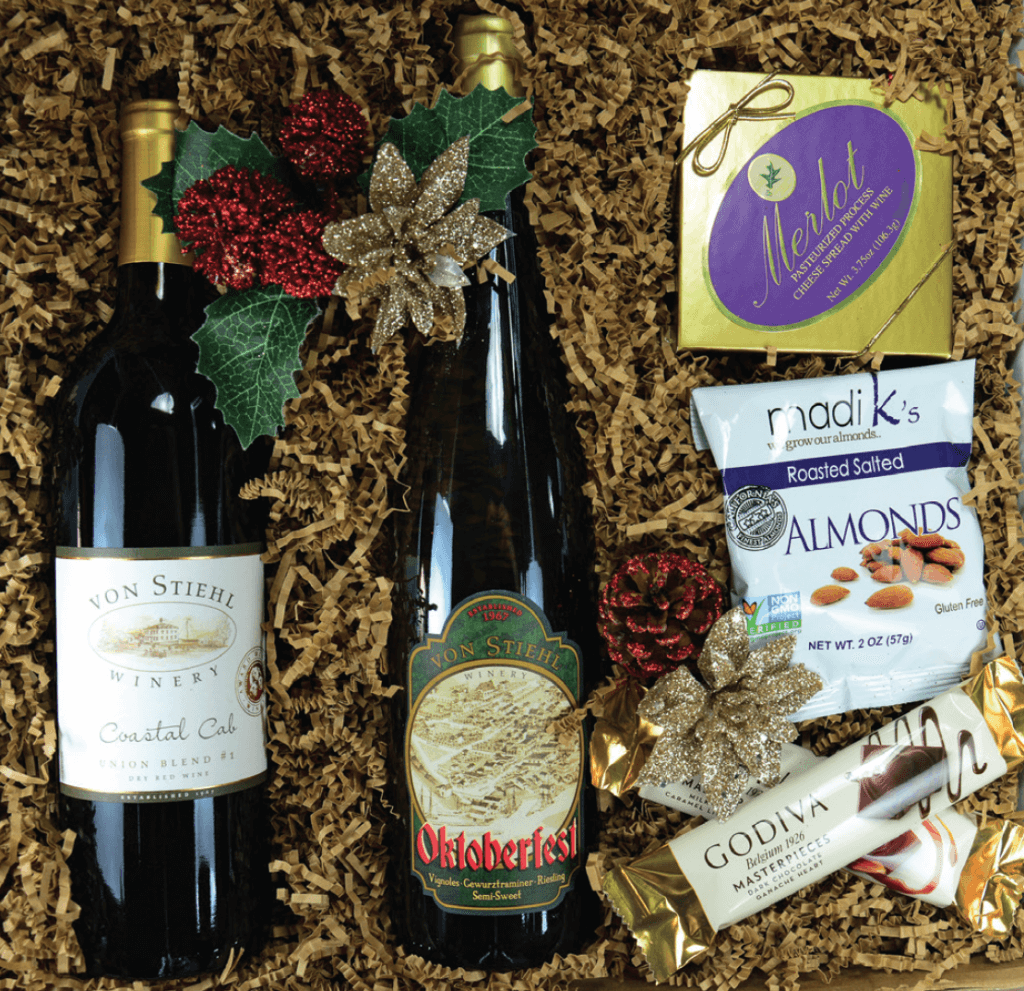 Choose 2 of these wines…
Crimson Royale, Niagara, Hard Apple Cider, Hard Cherry Cider
Choose 2 of these wines…
Oktoberfest, Riesling, Satin Red, Sweet Cherry
THEN
Pick 3 food items to add to either gift box…
Items vary; ask for current selection. Examples of food items include, but aren't limited to: Cheese Spreads, Cookies, Crackers, Nuts, Pretzels, Truffles & Candies
TO ORDER CALL (920) 487-5208

Our gift cards will make you the favorite boss, family member, or friend. 
TO ORDER CALL (920) 487-5208!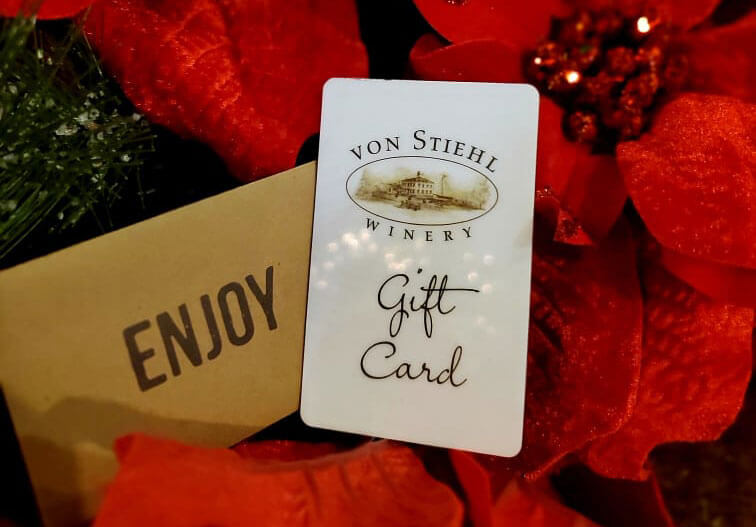 Auto-Shipping
Auto-ship any wines and any quantities! Monthly, quarterly, bi-annually, annually, or choose your own adventure!
Enjoy six pairings while hearing our history; prepare for goose bumps as it might include a ghost story or two! Tastings are available every day by appointment only for $20/person. Call us today to set up a time. 
Find out where to buy your favorite von Stiehl wines at your local grocery stores and restaurants!