-POSTPONED- BrewVino Steer Roast 2021
June 12 @ 11:00 am

-

4:00 pm

$30.00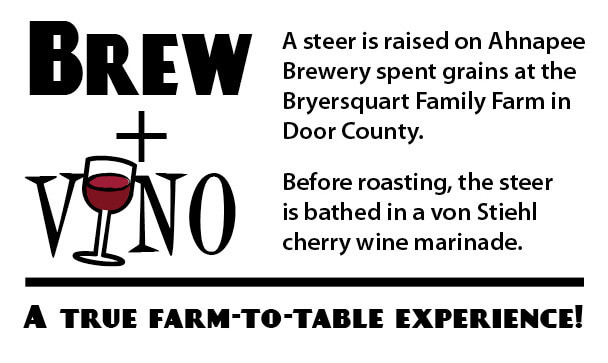 **The pandemic has struck again and we are sad to share with you that we are postponing our BrewVino Roast event until at least 2022. More information can be found on our blog. * *
The BrewVino Steer Roast is a wine and beer event of a different flavor!
STEER ROAST • SPECIAL WINE AND BEER RELEASE • MUSIC BY MODERN DAY DRIFTERS • SPECIAL WINE TASTINGS
SATURDAY, JUNE 12, FROM 11AM TO 4PM.
Purchase tickets at the bottom of the page!
$30 TICKET PRICE INCLUDES ADMISSION, DELICIOUS FOOD, WATER, A COMMEMORATIVE GLASS, AND FANTASTIC TUNES!
*IF TICKETS SELL OUT ONLINE, THEY WILL NOT BE AVAILABLE ON THE DAY OF THE EVENT.
Join us on June 12th and you'll have the chance to taste the most popular varieties of von Stiehl wines and Ahnapee Brewery brews during the event and enjoy the opportunity to buy an exclusive batch each of wine and beer produced just for the event.
Music will be performed by the Modern Day Drifters!
WHAT'S SO SPECIAL ABOUT THE STEER ROAST?
FOR STARTERS, THE STEER IS UNIQUE.
Spent grains from the brewery are currently being fed to our steer at the Bryersquart Family Farm, one of the top farms in polled genetic cattle in Door County. Bryersquart is family to one of the winery owners. The steer is well cared for by Scott Jeanquart, a genetic expert, who is growing one of Door County's finest herds. His animals and embryos are sold at auction to buyers in the United States and beyond.
WHY IS THE STEER ROAST CALLED THE "BREWVINO ROAST?"
This steer is raised on Ahnapee Brewery(Opens in new window) spent grains at the Bryersquart Family Farm(Opens in new window) (Brew). Prior to the roast, the steer is bathed in a cherry wine marinade (Vino). This is a true farm-to-table experience! And not just anybody is preparing this feast. For starters, the steer is processed by Otto's Meats(Opens in new window) in Luxemburg. von Stiehl Winemaker, Aric Schmiling, prepares the special cherry and red wine marinade. Then, the full carcass is marinated for 24 hours prior to the steer roast. The roast begins with a hot fire at 3 am on the day of the event, with a serving time somewhere between noon and 1 pm.