Annual events at von Stiehl are favorites of locals and visitors alike. Join us at the winery for great wine, food, live music, and a fun-loving crowd!
SUMMER CONCERT SERIES
Fridays, July 3 through August 21, 2-5pm
Saturdays, July 4 through September 5, 12:30-4pm*
Our popular Summer Concert Series will have you relaxing along our outdoor terrace on the Ahnapee River with a Lake Michigan view, live music from great bands, and a glass of your favorite von Stiehl wine or cider, or craft beer from Ahnapee Brewery! Check our event calendar for more information including band line up.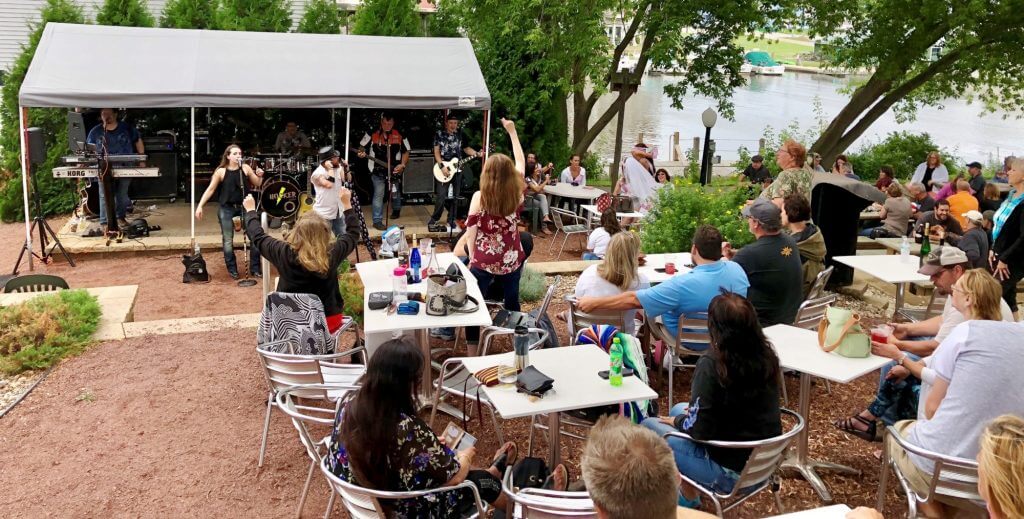 WET WHISTLE WINE FEST 
September 17th & 18th, 2021
Award-winning wines, grape stomp, heritage foods, fine art & live music! It isn't all of the visitors smiling at the same time that's weird. Nor is it the trombonist standing in a grape-filled barrel while playing an amazing riff. Nor the people with sticky purple feet dancing onstage. This is normal and to be expected. What's odd are all the costumes. We don't ask anyone to show up dressed as wine bottles, or happy nuns who love Naughty Girl wine. These are just a couple examples of Festival goings-on that we just couldn't make up. Don't take our word for it… come see it for yourself!