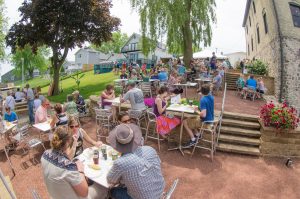 August Amusement in Algoma

If summer was only a month long, then we'd have the entire season left! As it is, the time to give it is here and there's no shortage of things to see in Algoma in August.
You might think summer activities would be dying down by August, but in Algoma, we're just getting started!
Cuisine Concerts on August 6, 13, and 20
Our summer concerts are still gaining ground. With extra seating next door, you probably won't even need a lawn chair. The August band lineup:
August 6 – The Outpatients, led by lord of the lick, Bob Balsley. If you love great guitar, he's your guy.
August 13 – The Jenirators, led by Jenny Funk. Her vocal range and power is amazing, and not to be missed.
August 20 – 12 Volt, We don't know much about these guys, but they come highly recommended by a former employee. Come listen and tell us what you think.
Enjoy food at the Skaliwag's food trailer along with our wine and Ahnapee Brewery beer!
Tall Ship Sneak Peak on August 3
These ships will be in a bit of a race that finishes outside of Algoma. The TALL SHIPS CHALLENGE® Race finish line will leave them mustering off shore in Algoma before heading to Sturgeon Bay.  There's something involving a massive floating duck associated with this festival that we haven't completely figured out. As part of the mystery, a seven-foot baby duck will be set up outside the winery on the 3rd. Ahnapee Brewery is the beer sponsor. So come enjoy a Tall Ships Lager and see the massive ships from our brewery patio. Read more about the Green Bay event here.
Shanty Days August 12-14
Fishing Shanties are the small buildings that used to line the Ahnapee River. They served as the home base for commercial fishing vessels in our port. A couple shanties remain, and they are a popular subject for photographers and painters in the summer and fall. To commemorate these local historic icons Algoma hosts Shanty Days. This annual event supports a number of non-profit organizations in the area. Fair food never tastes better than when a lake breeze is blowing through and at Shanty Days you'll find everything from fried chicken on a stick to funnel cakes.
Do they have our wine? You betcha! Find five of our top varieties in the Algoma Main Street tent. One note – if you're planning to visit us on August 13, be aware that the streets around the winery are closed all morning due to the noon parade. Things get flowing around 1 pm when the blockades come down. Until then you may want to wear your walking shoes!