Turn your holiday meal leftovers into an easy dish that you can enjoy any time and pairs great with von Stiehl Cranberry Wine. Each bottle of Cranberry wine is jam-packed with cranberries. In fact, if you like dry red wines, you need to give this one a try, you might be surprised at how much you enjoy it. The cranberries in this wine come to us from Wisconsin Rapids and are hot-pressed to extract the most color and flavor. The cranberry juice is then fermented in stainless steel to create a more intense, tart, but balanced wine. This is why von Stiehl Cranberry wine is a special treat with your holiday meals and leftovers.
Ingredients: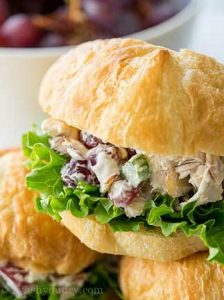 3 cups shredded chicken or turkey
2 stalks celery, chopped
1 cup firm red grapes, cut in half
1/2 cup sliced almonds
For the Dressing:
1/2 cup mayo
1/4 cup plain greek yogurt
1 tbsp lemon juice
1 tsp garlic salt
1/2 tsp salt
1/4 tsp black pepper
For the Sandwich
6 large croissants
green leaf lettuce
______________________________________________________
Instructions
Combine the chicken (or turkey), celery, grapes and almonds in a large bowl.
In a separate bowl whisk together the ingredients for the dressing until smooth. Pour the dressing into the bowl with the chicken and stir until it is all coated.
To serve the sandwich, cut the croissants in half and place a leaf of lettuce on the bottom half. Top with the chicken salad mixture and place the top half of the croissant on the top.
Enjoy with a glass of von Stiehl Cranberry wine.
Image & recipe from iwashyoudry.com