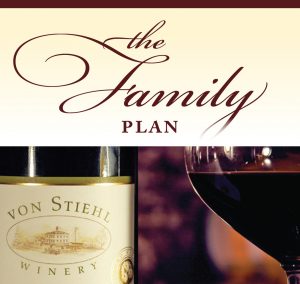 Join the Family for wine discounts that matter!
When's the last time you bought a new suit or dress to go to a neighbor's kid's wedding? That's more of a 'pick something out of the closet that's comfortable' affair, if you go at all. That's the outside circle. Then there's the group of those closest to you that get the most of your thoughts and free time. They are as significant to you as you are to them.
We've had it with the third cousins that drink three-dollar wine. We at von Stiehl are looking for more close family members like the ones who have been purchasing Crimson Royale and Niagara by the case since the late 80s. If it weren't for our long-time die-hard wine-buying friends, we may not have made it this far.
If you haven't yet made the decision to join us, then we invite you to now. Please sign up for a spot in the Family Plan Club. The discounts are higher (up to 36%) than what we give to our actual family, and we go to great lengths to put together special pairings to pique your favorite addictions of cheese, sweets, or dry reds.
Are you thinking… that's just another wine club and I'm already a member of a few? Well, do your wine clubs carefully pair wines with just the perfect cheeses, and then include some quick notes on how best to enjoy them? That's dedication, and we're happy to take on that challenge for our family. We do it out of love! Not really a cheese fan? How about sweets? We pair sweet wines with sweet offerings including chocolate, candy-coated popcorn, hard candy, and other delicacies we find around the state. Getting together with family means desserts in Northeastern Wisconsin!
Don't care about anything paired with your wine? You can be a red wine purist if you like and sign up for the reds-only option of our family plan where you'll often receive new releases first. Plus you'll receive a great discount.
We do all of this to reward our family members for being loyal customers. The prices that you'll pay as a Family Plan member will almost always be lower than you'll pay at any retailer, and lower than the options for regular von Stiehl customers. Still interested? Read more about the club and discounts here, or join the plan today?