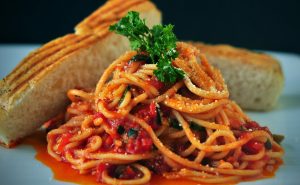 Ingredients
1 – 28 oz can of peeled whole tomatoes
3 tbs extra virgin olive oil
1 onion finely diced
5 closed minced garlic
1/4 tsp red pepper flakes
1/2 tsp salt
1 lb spaghetti noodles
2 tbs butter
1/4 cup freshly grated parmesan cheese
2 tbs chopped fresh basil
Instructions
Place opened can of whole tomatoes into a blender or food processor and puree until smooth. Then set aside.
Heat olive oil in a large skillet over medium/high heat. Add in the onions and saute for 5 to 7 minutes or until soft. Add garlic and red pepper flakes and saute for 1 more minute.
Pour the tomato puree into the skillet, season with salt, and bring to a simmer for 10 minutes.
While the skillet is simmering, cook spaghetti noodles in boiling salted water as the package directs, and drain.
Add pasta to the sauce in the skillet and toss to coat. Add in butter and parmesan and toss until the butter has melted.
Serve hot, top with basil, and a glass of von Stiehl Dolcetto red wine.
Enjoy!