Pinot Noir is back in stock!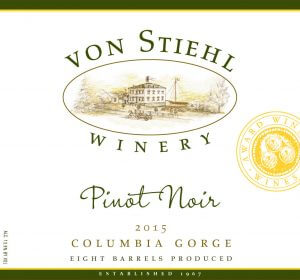 Our timing can be impeccably poor, and we like it that way. In 1967, Doc Stiehl was ahead of his time with screw caps. The closure let in less oxygen, and was less prone to the natural bacteria that is commonly found in natural corks. Af­ter decades of hearing 'why don't you use corks?' we invested in a mono-block filler and converted entirely to corks. Guess what happened next? Screw-caps became the new thing! We're not going back after putting in our 25 years of screw-caps. It's the principle of the matter.
The same thing is happening with Pinot Noir. This lovely wine was our first dry red release. A 1998 vintage Oregon-sourced Pinot Noir was von Stiehl's first foray into the dry red market. Cabernet Sauvignon and Merlot quickly fol­lowed. Many of our reds did (and still do) well, but Pinot flopped. It was an odd grape that garnered no interest so we discontinued it. Then Sideways premiered. You know, the 2004 movie that put Pinot Noir on the map. For a decade to follow everyone asked, "Do you have a Pinot Noir?" No, and now we're not going to just because. Blame it on our German stubbornness. It's the principle of the matter.
The buzz has worn down, and we are offering Pinot Noir another shot at standing on its own. We fermented eight barrels of 2015 Columbia Gorge Pinot Noir, and aged it eight months in medium toast French hybrid Oak. If you are one of the few die-hard customers that remembers the last Pinot Noir, we applaud your patience! We hope that it was worth the wait. It is available in our tasting room now for you to sample, or get it online. Just don't ask us to bring back Robust Red.
You'll see two other new reds this fall, Mourvèdre and Mal­bec, and in case you're wondering, we do still use corks. With the exception of our reserve reds, they are 100% green syn­thetic corks (Select Bio Corks) that leave a zero carbon footprint. We're sticking to that principle.