Beware of Wine Bottles and Dancing Nuns at the Wet Whistle Wine Festival this year in Algoma!

The wine festival is earlier than ever this year — perhaps the earliest it will ever be! Join us on September 11 & 12 for a grape stomping good time!
Here are a few tips:
*For a better time, bring a chair, costume, and lots of friends.
*Plan to eat food and drink water along with your wine.
*You may feel out of place if your party isn't wearing matching shirts.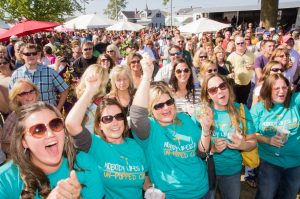 *The brewery patio will be serving burgers Friday afternoon and Saturday night. Wine is now available in the tap room.
*It's not the best setting for children.
*The nuns aren't really nuns. The walking wine bottles aren't full of wine… until the end of the day.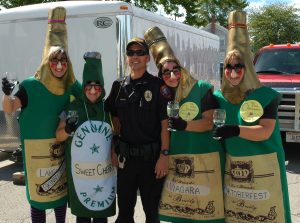 *The Police uniforms aren't costumes.
*Intoxicated wine bottles aren't allowed outside the wine festival grounds without a police escort.
*The wine festival tasting tent is packed from 11 am to 4 pm so plan to sample early or late.
*It's a great day for a free self-guided walking tour of the winery.
See more details here: Friday & Saturday.
Special Vintage Tasting Saturday at Wet Whistle Wine Festival

We are bringing back the special vintage wine tasting from 12:30 pm to 4:00 pm in the production building. We're still pretty small
beans at von Stiehl so it'll be just us owners along with our assistant winemaker Dave.
To participate in the event, we ask that you buy one of our crystal
Riedel
stemless glasses for $10. In that glass we will pour five samples of our special vintages. No reservations are needed. Just knock twice on the alley door on the west side of the production building!