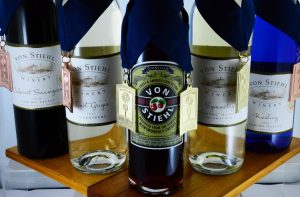 Cherry Bounce on Top with Highest Honor
We just received six medals at the International Eastern Wine Competition (IEWC) in Sonoma County, California. Established in 1975, the IEWC is one of the oldest and largest professional wine competitions in the nation. 
The judging was held Feb. 10-11, 2015 in Sonoma County, California. Traditional awards were given in each division; any wines given a gold medal were then entered into a Taste off to see which wine was "Best of Class". 
Doc Stiehl's Cherry Bounce, a sweet and smooth concoction of cherry wine and cherry brandy distilled from von Stiehl's cherry wine, brought home a Double Gold and Best of Class. The high-alcohol Bounce is produced from Door County Cherries grown by Seaquist Orchards in Sister Bay. The cherry wine is then distilled into cherry brandy at Great Lakes Distillery in Milwaukee. Once back at von Stiehl the brandy is blended with more cherry wine and aged in red wine barrels for six months prior to release. Barrels help to smooth out the high alcohol, which comes in at 20.5%. Winemaker Aric Schmiling says, "Next to the 30 month aged Cherry Bounce, this is one of the finest cherry wines that our winery has ever produced."
The IWEC poured out more medals for von Stiehl's wine. A gold medal was also awarded to Symmetry, an off-dry white wine. Blueberry received a silver medal, and bronze medals were awarded to von Stiehl's Riesling, Cabernet Sauvignon and Pinot Grigio.