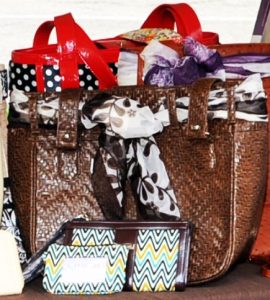 Swap Meet Sunday, April 19, from 1:00 pm – 3:00 pm
We women like options when it comes to accessorizing! It's not that my lime green purse is old or worn, it still looks great! It's just that I'm tired of it. I have this funky set of earrings that are just too nice to sell to a second hand store, but now that my hair is short with red highlights, they just don't work. I have this beautiful scarf that went great with that sweater before it got a big red wine stain. My husband recycled the sweater by putting it on the scarecrow in the vineyard, but I wouldn't let him have the scarf to complete the outfit. What's a girl to do with all of these fashionable items? I can't just give them away. I think I'll take them to the von Stiehl Swap Meet!
Shop without money while you enjoy wine and light appetizers. Here's how it works: You get a ticket for every item that you bring, then you use those tickets to purchase something new (to you) and different. Not paying a thing for all of those new things is only part of the win. In addition you can take 25% off of wine purchases (6 or more bottles), and enjoy a glass of wine with your $10 admission to the event. Call 800-955-5208 to reserve your spot in the swap meet, then use your new found excitement to start cleaning out the closet!
Disclaimer: This was written by a man. I apologize for the imperfections in thought patterns while writing to promote this event.