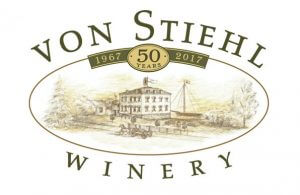 We kept a winery in business until its 50th anniversary. With that, a plethora of emotions are flying about. We made it. We're here – we did it! From the days of flower children and Elvis to the age of smart-phones and millennial bosses. We survived it all.
From English Morello to Montmorency, cherry wine kept us alive for our first 25 years. Cherry wine was the mac 'n' cheese of our college years, and Vitis Vinifera filtered its way into most of our wine list by age 35 when we thought that we were becoming refined. Don't be quick to judge; who hasn't changed over 50 years?
Maybe you gulped sweet cherry wine from a screw-capped gauze-wrapped bottle under the Forestville bridge at age 16 and nobody knew. Perhaps you found that Kirsche and Coke made a mean mixer in your young adulthood and that's what got you into von Stiehl wines. Hey, you can't drink Zima all of the time.
Where did all of those years go? It was seriously just one day at a time. Filter on Mondays and Wednesdays; bottle on Tuesdays and Thursdays. Run the delivery truck on Thursday afternoons to Door County. The delivery truck was just a truck, a 1986 two tone red F150 with an H.O. 302, two gas tanks, chrome rims, and an ugly black cap that Dad put on to keep his sons humble. Saturdays and Sundays were spent in the tasting room and it all started over on Mondays.
There are too many memories to remember and there's always too little time to talk when big talkers are in the room. These memoirs are the tip of the iceberg and our story is ready to be told. We'd like to give that a shot on March 18, with a 50th anniversary celebration. At first, we thought about a fancy dinner, but we decided it better to stick to a daytime event.
We've invited Skaliwags to put on a buffet luncheon and the River City Six to romance us with ragtime. In between the feasting and dancing, we'll conduct three tours of the new and old production buildings. When we say we, we mean Aric and Brad (me), the owners. The boys… who grew up in the biz while their parents poured their souls into making monthly payments. The tour will be a real-life account of how 50 years went down presented by the boys that saw the last 36.
Leave your dress pants at home and put on a clean pair of blue jeans. Winery owners are always happier when dressing down. Come hear the story of how a winery is full of hard work and art work.

Please check out the 50th Anniversary party details below and give us a call if you'd like to be one of the 90 in attendance. We hope that you can make it to share in the finale of the first fifty.
Event Date & Time: March 18, Noon to 5:30 pm
Location: 104 Steele Street (our production building), enter the service door by the loading dock on 1st Street.
Feasting: Skaliwags Lunch Buffet 12:30 pm. to 2:30 pm.
Tours: Sign up when calling for one of the following times. Noon, 2:15 pm., 3:30 pm. (These may not be exact.) Tours will include an account of the last 50 years at von Stiehl Winery by owners Aric and Brad Schmiling. We plan to crack open some tanks and pull some barrel samples for you to taste along the way.
Includes: One signed 50th Anniversary Calistoga Cabernet Sauvignon commemorative bottle per person ($50 value).
Event price: $75 per person.
Please call 920-487-5208 to reserve your tickets or join the waiting list if tickets sell out.
Planning to stay over and stay out of the car once you're here? Visit the Algoma Chamber lodging list.