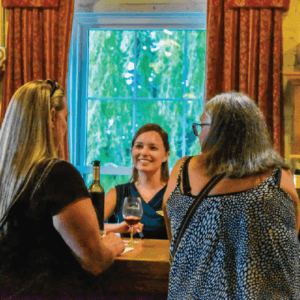 Sample 6 wines in our 150-year old tasting room along the Lake Michigan lakeshore. Samplings and flights of our ciders are also available next door, at our Cider Bar.  No reservation is needed*, just stop in on your way to and from Door County or stop by after work. We are open all year round, seven days a week.
We hope you feel like family as you enjoy your tasting and walk around the tasting room. After you have finished your tasting, you will pay for your tasting and any additional wines you would like to bring home with you.
We look forward to seeing you soon!
*We only ask that you make a reservation if you will have a group of 6 or more.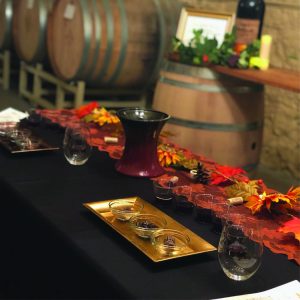 Experience award-winning wines in our 150-year-old historic building. You will be guided through a private, pre-selected seated tasting of six different wines accompanied by samples of unique food pairings all while listening to our staff share the history of our winery and maybe even a ghost story or two.
The cost is $20 per person with a maximum of 12 guests per session. Wine sample offerings will revolve around either von Stiehl's dry reds or von Stiehl's semi-sweets and sweets. Just let us know which you prefer.
Call us today at (920) 487-5208 to schedule your Seated Tasting.