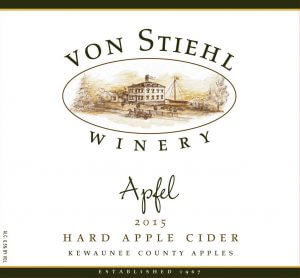 It's working! Our bubble making machine is actually working! The new bottling line is pumping out still AND sparkling wine in a glorious manner. The unexpected add-on of a bottle washer and dryer only makes the end product that much more enticing. Now it's time to have some fun. Our first batch of apple cider, aka Apfel, will be passing through the machine on its way to our tasting bar in just a couple of weeks.
This isn't watered down, cheaply-sweetened apple-flavored ale, like what the big beer companies have been marketing so successfully in the last few years. This is true apple cider fermented by a winery. The fruit comes from Hillside Apples, just twelve miles west of the winery. These are, in fact, the same apples that are blended for our Apple Icing.
Owning a winery in Wisconsin is both rewarding and heart-breaking. Most of our customers welcome our wine profiles ranging from Door County cherries to Sonoma reds. So often the judgement is laid down that Wisconsinites aren't qualified to make wine; that only Californians and Europeans are recognized as quality producers. That's the heart-wrenching part. Never mind the 49 years that we've been putting smiles on wine drinkers' faces.
That opinion is completely absent when we talk about our Ahnapee Brewery Wisconsin beer since everyone knows Wisconsinites make great beer, even if their family hasn't been doing it for generations. Suds are received with glee, and guests are open to trying all sorts of beers from light to dark. Never once have we been asked "What? they make beer in Wisconsin?"
There is one category that perfectly suits our Wisconsin winery, and that's cider! True apple cider can only be made by a winery. Given our great relationship with Hillside Apples, we thought it time to try our hand at apple cider.
Our 2015 hard apple cider is created from five carefully selected varieties of Hillside Orchard's apples. They are blended together to produce a crisp, smooth and refreshing hard cider with just a hint of sweetness.
Ask for a sample of our apple cider this summer when you visit!