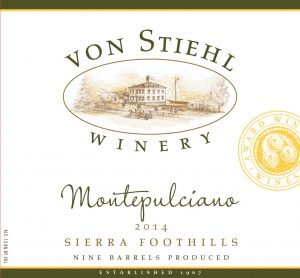 Let's talk about something that isn't easy to say. Everyone seems to have finally nailed down the pronunciation of Merlot, Chardonnay, and Cabernet Sauvignon. Now, if you've also finally mastered Gewürztraminer it may be time for a new challenge: Montepulciano!
Montepulciano is a second-nature wine expression in Italy. It is rarely found in northern Italy because the grape has the tendency to ripen late. You'll find it mainly in the central and southern part of the country. It follows Sangiovese as Italy's second most widely dispersed indigenous grape variety. The grapes are plump with a low skin-to-juice ratio. Traditional characteristics are deep ruby color, low acid, and mild tannins.
Since Italy is too far away to ship us grapes, we found a supplier in the Sierra Foothills of California in 2014. After harvest, our small lot of nine barrels spent 14 months in French-hybrid oak before another five months of bottle aging.
Our Montepulciano is rich in color with moderate acidity. Blackberry fruit flavors and barrel spice lead the characteristics of the smooth, mellow red. It's easy to drink, and will enhance any red sauce pasta dish. Keep a bottle around for pizza night too!
Montepulciano will debut in our tasting room right around the weekend of November 12. Being the astute reader that you are, you're thinking that you'll try this new red along with Mourvèdre during your November visit. (We announced the release of Mourvèdre in our November case club newsletter.) After that announcement, we tasted the wine. We know – a little backward. It is wonderful but is still grappling with bottle shock. So the Mourvèdre will stay on its wine stack for another six months.
Pull out those red pasta recipes. Then visit us to sample Montepulciano (not Mourvèdre) in the tasting room this November!